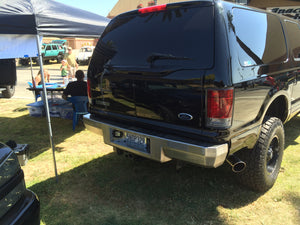 This Mercenary Offroad rear Excursion bumper is one of a kind. Fully formed to follow and match the lines of the 1999 - 2005 Excursion. With high flowing lines that allow for gobs of ground and tire clearance and an integrated lower skid plate system, this bumper is a great addition for taking your truck off the beaten path, but it also has the aesthetics to be featured on an award-winning show truck. Hundreds of slight bends in the steel give this bumper the appearance of curving with the tail and boxed insides to eliminate any unfinished appearance, as with most other bumpers.
Mercenary also eliminates any exposed welds to further complement the smooth finish of this bumper. This is a real bumper. It includes an integrated hitch worthy of towing.
NOTE: Lead time maybe 6-8 weeks.