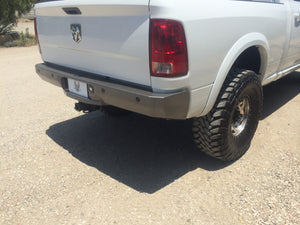 This Mercenary Offroad bumper speaks for itself, a true work of metallurgical art. Fully formed to follow and match the lines of the 2013-2018 Heavy-Duty Rams, this is the cleanest, and most unique bumper on the market for these trucks. With high flowing lines that allow for gobs of ground and tire clearance, this bumper is a great addition for taking your truck off the beaten path, but it also has the aesthetics to be featured on an award-winning show truck.  Fits with stock hitch.

* Has cut out for a trailer plug and 1 Baja Design S-2 panel mount reverse light. (not shown in the above photo)
NOTE: Lead time may be 6-8 weeks.